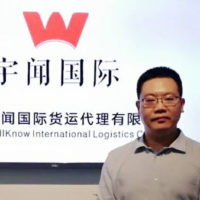 Steven Xing
Founder, ShenZhen Well Know Int'l Logistics Co., Ltd.
Steven Xing specializes in freight forwarding services via air and sea. He has been engaged in the international logistics industry since 2000. He has worked as sales director for South China at JJB-LINK LOGISTIC CO., LTD, which is one of the group's holding company for Hitachi Transport ; Also served as General Manager (South China) for E-CHAINS INTERNATIONAL LOGISTICS CO.LTD (participated in establishing Guangzhou & Shenzhen branch ).
In 2019, Steven founded ShenZhen Well Know Int'l Logistics.Co.,Ltd. His company commits to provide solutions for the transportation of epidemic prevention materials. These services also can apply to cross-border e-commerce (it's first leg for airfreight). In the future, it will also devote itself to the unified arrangement and distribution of transport capacity between the north and south to make some contribution to the development of e-commerce in China.
In addition to his work, he has also been engaged in international air transport vocational training for colleges and related companies since 2005. Currently, he is a special lecturer of Training Committee for Guangzhou Aviation Logistics Association and Shenzhen Institute of Information Technology. He once held a special training session for many well-known logistics enterprises in Shenzhen, such as SF Express.