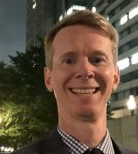 Richard Conrad
Richard grew up in Washington, D.C., and is one of the only Americans to ever earn a master's degree as a local student at Fudan University in Shanghai, China. He has spent the last sixteen years working for a large money management firm researching, analyzing, and investing in Chinese and Japanese equities, so he has a deep understanding of the cultural differences between the US and China.
Richard is fluent in Chinese and Japanese and continues to live in Asia with his family.
Connect with Richard Conrad
Want to connect with this person in our GFA VIP network? Complete the form below and our GFA VIP community department will review it. Because business owners and executives are so busy - we will reach out to them and see if a connection can be made. Note: Our GFAVIP members get special connection priority preference.