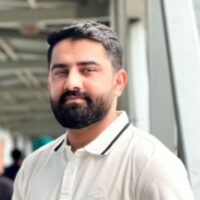 Abdus Samad Shah
Amazon Verified Advertising Partner and Amazon SPN Member Founder at Advertising Spire and Design My AMZ
Abdus Samad Shah is a seasoned Amazon FBA Private Label expert dedicated to crafting and elevating influential brands. As the visionary behind two successful agencies, Advertising Spire and Design My AMZ, Abdus and his team have a proven track record, managed PPC Ads accounts for over 350+ Brands, and delivered more than 1000 design projects. These projects span listing images, Enhanced Brand Content (EBC), storefronts, and comprehensive listing content. Both Agencies are Amazon Verified Partners and SPN Members.
With a strong academic foundation, Abdus holds an M.B.A. in Marketing Management. He further solidified his business acumen with a B.Sc. in Business Management and Intermediate in Commerce Studies.
Abdus's commitment to excellence and his holistic approach to Amazon FBA Private Labeling positions him as a sought-after expert in the field.